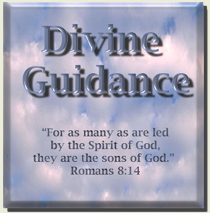 Table of Contents Click Bookmarks Below
___________________________________

In this lesson, you will learn the importance and the fundamentals of spiritual guidance.
The whole world is in a state of chaos, running to and fro in the earth. Daniel 12:4, "But thou, O Daniel, shut up the words, and seal the book, even to the time of the end: many shall run to and fro, and knowledge shall be increased." The lust of the eyes and the pride of life being the prime motivation of man's endeavors.
The direction of the world is given predominantly by men and women who know not God and are not directed by His Spirit. Some know God and still are not directed by His Spirit. Some are directed by the Spirit of the Lord and that is why we have some peace and prosperity in the world. Therefore, it is of prime importance that we teach people to be led by the Spirit of God. Decision making in this world can be hard; there are many choices and the oppression is greater than ever.
The prophecies of the Bible tell us that these things are a sign of the last days and if there was ever a time in which it was imperative to be led of God, it is the time in which we are now living!
Jesus said that our works would be tried by fire to see what kind of works they are, whether they are gold, silver, precious stone, wood, hay or stubble in 1 Corinthians. 3:13-14, "Every man's work shall be made manifest: for the day shall declare it, because it shall be revealed by fire; and the fire shall try every man's work of what sort it is. If any man's work abide which he hath built thereupon, he shall receive a reward." He also explains in the same chapter that there is no other foundation that a man can lay or build upon than that of Jesus Christ. 1 Corinthians 3:11, "For other foundation can no man lay than that is laid, which is Jesus Christ." In John 15:5, Jesus says, "I am the vine, ye are the branches: He that abideth in me, and I in him, the same bringeth forth much fruit: for without me ye can do nothing." Jesus tells us that we can do nothing if we do not abide in the vine, that He is the vine and we are the branches and we must abide in Him. Therefore, in order to perform works that would become gold, silver and precious stone (spiritually speaking), the believer must learn to become dependent on Christ who dwells within them. He is our guide. He is the ultimate strategist in the chess game of life.
If you wish to build a life of works that will last for eternity instead of wasting your time living for this world, building works of temporal value that will perish, then take heed to give yourself to the study of this lesson with your whole heart. Jesus said to lay up treasures in heaven that cannot be corrupted in any way, shape, or form and they will last forever. Matthew 6:19-20, "Lay not up for yourselves treasures upon earth, where moth and rust doth corrupt, and where thieves break through and steal: but lay up for yourselves treasures in heaven, where neither moth nor rust doth corrupt, and where thieves do not break through nor steal."
The body of Christ is filled with many believers being led by every notion, feeling and thought under the sun that would seem to be a right choice, but in the latter end, would be a bad choice. Proverbs 14:12, "There is a way which seemeth right unto a man, but the end thereof are the ways of death." From major to minor decisions, many believers are not implementing the teachings concerning God's guidance. They are led of their own desires and own wants, as opposed to the leading of Christ. We can see the evidence. So many have made snap decisions based upon the judgment of the different realms of their being outside of the witness of the Spirit of God. Sometimes it's simply a case of not knowing how to be led.
Some of the motives that are used by the devil to cause people to make wrong decisions are:
A. HUMAN EMOTIONS - How many times have you seen someone become highly emotional to the point that their capability to see reality was impaired. Based upon these extreme emotional feelings, which are seated in the soul, they were moved to a decision or a particular direction. Instead of being led they reacted, resulting in chaos, hurt for themselves and others. An example of this, in the scriptures, can be found in the way Judas conducted himself after he betrayed Christ - eventually hanging himself. Peter tried to move Jesus into the emotional realm by trying to induce self-pity. Mark 8:31-33, "And He began to teach them, that the Son of man must suffer many things, and be rejected of the elders, and of the chief priests, and scribes, and be killed, and after three days rise again. And He spake that saying openly. And Peter took Him, and began to rebuke Him. But when He had turned about and looked on His disciples, He rebuked Peter, saying Get thee behind me, Satan: for thou savourest not the things that be of God, but the things that be of men."
Notice in the scripture that Jesus said the devil savors the things that are of man and not of God. If Jesus would have allowed Himself to move into this realm, He would not have gone to the cross to ransom us from our sins and we would, in turn, all be lost! This realm is also used to inhibit people who are trying to overcome a bad self-image or rejection.
Many times men and women (to give an example) will choose a mate who is rejecting them, their motivation being based on the fact that they are trying to overcome rejection. This is why self-analysis, in the light of God's Word with the revelation of His Holy Spirit, is imperative.
B. THE HUMAN EGO - This is the area from which we gain an awareness of the pride of our endeavors. Many times, more than not, the ego becomes over-inflated and pride grows to an over-enlarged state crossing spiritual boundries and the scriptures are fulfilled. Proverbs 16:18, "Pride goeth before destruction, and an haughty spirit before a fall."
Pride is probably the prominent causal factor of impaired judgment. It triggers rebellion against God and its' result is a lack of true guidance. It darkens the heart and mind of man and clouds true wisdom. To the astonishment of all, we have seen and will continue to see men of renown falling in despair. People that we thought were seemingly invincible, rebelling against God because of pride and then falling headlong into destruction. "Rebellion", the scripture says, "is as the sin of witchcraft and stubbornness is as iniquity and idolatry," 1 Samuel 15:23.
When the human ego is inflated beyond balance, untethered by the Spirit, and pride is amplified, we end up uniting ourselves with the fall. Because it is that sin for which Lucifer fell when he rebelled against God and has since brought much destruction to mankind. Isaiah 14:12, "How art thou fallen from heaven, O Lucifer, son of the morning! How art thou cut down to the ground, which didst weaken the nations!"
C. THE DESIRES OF THE NATURAL - The natural desires or pleasures of this life are not necessarily the works of the flesh. The enjoyment that God has given to man can cause imbalance when we begin to put pleasures before good judgment and the leadership of the Holy Spirit. 1 Timothy 6:17, "Charge them that are rich in this world, that they be not highminded, nor trust in uncertain riches, but in the living God, who giveth us richly all things to enjoy." We will eventually find ourselves in a state of poverty, impoverished in mind and body and in our material world as well. Knowing to pray and read the scriptures, but yet willing to make some sort of pleasure the priority over it. Knowing to attend fellowship and being distracted by the comforts that surround us. This is why Jesus called his followers disciples.
It takes discipline to be a disciple. In the parable of the sower, we find that pleasures are one of the reasons why the seed of the Word of God is choked out of one's life. Luke 8:14, "And that which fell among thorns are they, which, when they have heard, go forth, and are choked with cares and riches and pleasures of this life, and bring no fruit to perfection."
Pleasures are a blessing when put in their proper perspective. They can also be a curse if abused! Some of these pleasures include money, homes, automobiles, boats, sports, vacations, food and social activities as well as a general good time, etc. These are blessings from God but when they become things we put before God, we fulfill the following prophecy. Romans 1:25, "Who changed the truth of God into a lie, and worshipped and served the creature more than the Creator, who is blessed forever."
We become covetous, which is idolatry. Colossians 3:5, "Mortify therefore your members which are upon the earth; fornication, uncleanness, inordinate affection, evil concupiscence, and covetousness, which is idolatry." We are thereby misled and fall into many hurtful and diverse lusts that shame the dignity of our heritage as sons and daughters of God. 1 Timothy 6:9, "But they that will be rich fall into temptation and a snare, and into many foolish and hurtful lusts, which drown men in destruction and perdition."
D. THE WORKS OR LUSTS OF THE FLESH – This is probably the most targeted element of distraction used by the devil to impair one's ability to make spirit led decisions and utterances. James said that the lusts of the flesh bring tribulation or temptation. James 1:14-15, "But every man is tempted, when he is drawn away of his own lust and enticed. Then when lust hath conceived, it bringeth forth sin: and sin, when it is finished, bringeth forth death." Moving in these realms and being motivated by them in our decision-making faculty brings much despair, death and destruction. Not only people's individual lives, but the whole world is affected in a negative way. Samson was misled by Delilah through the works of the flesh and had his eyes put out and he lost the power of God in his life! Judges 16:20-21, "And he awoke out of his sleep, and said, I will go out as at other times before, and shake myself. And he wist not that the Lord was departed from him. But the Philistines took him, and put out his eyes, and brought him down to Gaza, and bound him with fetters of brass; and he did grind in the prison house." The works of the flesh are simply the pleasures of this life pushed to a tangential extreme causing an imbalance.
E. THE HUMAN LOGIC - It is hard for the human, conscious, natural, logical mind to accept or even acknowledge the supernatural. 1 Corinthians 2:14, "But the natural man receiveth not the things of the Spirit of God: for they are foolishness unto him: neither can he know them, because they are spiritually discerned." We have been trained by teachers, and our environment, that everything works in accordance with natural laws that cannot be violated. This natural logic does not abide by supernatural or spiritual laws. The laws of the natural world are what it abides by. Although many times spiritual logic will coincide with natural logic.
God moves in both dimensions (the natural and supernatural). But if one desires to be a spiritual individual, they will have to understand that there will be times where they will be required to do something against natural laws. This is why the prophet Daniel said they would do exploits. Daniel 11:32, "…but the people that do know their God shall be strong, and do exploits." They (referring to believers in Christ) would defy natural, logical laws and odds. For instance, supernatural healing of the human body violates natural laws of healing for the human body. But laws of healing, natural or spiritual, are both from God and are used and ordained by Him.
The parting of the Red Sea in the Old Testament is a very clear example of the supernatural having the ability to contradict the natural. Let us therefore be aware, at all times, that there is no particular set pattern that God must use in order to get the job done. Let us not be like Israel who limited God with their natural logic. Psalms 78:41, "Yea, they turned back and tempted God, and limited the Holy One of Israel."
F. OUTSIDE VOICES - (Or voices that speak to the conscious mind). This is a very dangerous area for any person to get into; that is, being moved by outward voices, voices coming from outside of one's self (or being), seemingly speaking to the conscious mind. Many, have been misled by these voices. Scripturally, they could be familiar spirits, departed dead, or just simply thought patterns in your mind that don't align themselves with God's way of thinking (1 Samuel 28:6-11). They will try to impersonate your own thought patterns. They will try to convince you that it is God speaking and once that is done, it is hard to get someone delivered from these said * voices because of the fact that they believe that it is coming from the highest authority in the universe when, indeed, it is not. We have examples of people in the extreme of this type of spiritual experience that have actually killed because they thought God told them to do so.
Voices from the outside should emphatically be ignored when speaking to the conscious mind. If a voice is speaking to the inward or from the inward man, even then it should be tried according to certain criteria that we will discuss in this lesson. Do not receive pushy, outward, condemning or guilt-oriented voices (James 3:17-18). Bind them by saying, I am dead to this thought or that thought in the name of Jesus Christ. Another area that can be detrimental is imaginary thoughts. This also must be tried by spiritual guidance. 1 John 4:1-2, "Beloved, believe not every spirit, but try the spirits whether they are of God: because many false prophets are gone out into the world. Hereby know ye the Spirit of God: Every spirit that confesseth that Jesus Christ is come in the flesh is of God."
G. GUILT IN THE HUMAN CONSCIENCE - Many times religious tradition and the scruples of man will induce doubt and despair rooted in guilt. A very clear example of this kind of impediment to spiritual guidance can be seen throughout the four gospels.
Pharisees and other men of traditional thought were constantly trying to stop Christ and trick Him, thinking they were serving God in doing so. They eventually crucified Him. Jesus said by their traditions, they made void the Word of God. Mark 7:13, "Making the word of God of none effect through your tradition, which ye have delivered: and many such like things do ye."
We must see to it that our own conscience is cleared of this dead works mentality. This can be done through an understanding of God's purging work of the conscience. Hebrews 9:14, "How much more shall the blood of Christ, who through the eternal Spirit offered himself without spot to God, purge your conscience from dead works to serve the living God."
The Apostle John says it this way, "For all that is in the world, the lust of the flesh, and the lust of the eyes, and the pride of this life, is not of the Father, but of the world. And the world passeth away, and the lust thereof: but he that doeth the will of God abideth forever," 1 John 2:16-17. Many of us will mourn when we see many of the erroneous decisions we have made based upon the flesh, ego, or the emotions. This is possibly the reason the scriptures say Jesus Christ will have to wipe tears away from our eyes. Revelation 7:17, "For the Lamb which is in the midst of the throne shall feed them, and shall lead them unto living fountains of waters: and God shall wipe away all tears from their eyes."
Paul said that our works will be tried with fire. "Now if any man build upon this foundation gold, silver, precious stones, wood, hay, stubble; every man's work shall be made manifest: for the day shall declare it, because it shall be revealed by fire; and the fire shall try every man's work of what sort it is. If any man's work abide which he hath built there upon, he shall receive a reward. If any man's work shall be burned, he shall suffer loss: but he himself shall be saved; yet so as by fire,"
1 Corinthians 3:12-15.
This is why it is of the utmost importance, that we learn guidance of the Holy Spirit within our spirit and the other ways in which God leads and directs us. Let us now explore the leading of God and the different dimensions thereof.
How does God lead his people today? In the Old Testament, God led his people predominately through signs and wonders.
Today, in the New Testament covenant, God leads his people as sons and daughters, speaking directly to them. "For as many as are led by the Spirit of God, they are the sons of God," Romans 8:14 and "My sheep hear my voice, and I know them, and they follow me," John 10:27. The signs and wonders are a result of this kind of leading of God. So we see that in the New Testament God speaks directly to his children and the signs are a secondary element that we do not follow but use as a confirming element in the leading of God. There are also confirming signs that work in conjunction with the inward witness to assure us that we are taking the correct steps in the execution of God's will, i.e., prophetic utterance through an individual that we do not know, or a sequence of events; but these only act to serve as confirmations.
God's leading is never a dictatorial leading, but rather a guidance; a suggestive thought. He will never impose himself upon our will. However, there are times if the situation is important enough, that God will give us a stronger witness concerning a particular matter. The strength of the witness varies with the degree of the importance of a particular matter. It may vary with our intensity of desiring to know about a particular matter as well. God will grant us His guidance and leading when it comes to our personal decisions concerning our needs, wants and desires and will also guide us concerning His perfect will.
In other words, there is God's will and then there's our will. God will help us in the decisions pertaining to what we would like to do and help us to stay in a balanced state. He will also direct us concerning His work in our lives that He has delegated to us. He will help us bring to a conclusion a dilemma in which there are three or four options. From the information we receive through our time of meditation and prayer, we will conclude one of those paths as being the one for us based on the criteria of the leading of God.
Many times Christians get caught into a syndrome that is detrimental to their identity whereby they conceive or perceive that God is dictating every little thought and decision. However, this is far from the truth. Satan will use this to confuse the believer, saying to the believer, This is God speaking - do this, do that. This is a time when we need to move over into a position of being hid in Christ. God will guide us, not dictate to us and sometimes there will be many options from which we will choose. God will leave many decisions to us in light of His wisdom. James 1:5, "If any of you lack wisdom, let him ask of God, that giveth to all men liberally, and upbraideth not: and it shall be given him."
Jesus knew that God gave options as He prayed in this manner while in the Garden of Gethsemane. It was evident He was looking for options and in this case, but could find none. Luke 22:41-42, "And he was withdrawn from them about a stone's cast, and kneeled down, and prayed, saying, Father, if thou be willing, remove this cup from me: nevertheless not my will, but thine, be done." In some areas, God will give us a direct command when it comes to His work and there are no options.
Obviously His work is not the choosing of clothing for our bodies or other things pertaining to this life that are more or less our choosing. But even in those endeavors, He gives us His wisdom and guidance. It is a wonderful thing to know that we have such a wonderful Counselor who is there at all times to help us with all decisions that we might make. John 14:26, "But the Comforter, which is the Holy Ghost, whom the Father will send in my name, he shall teach you all things, and bring all things to your remembrance, whatsoever I have said unto you."
God does not impose His will upon our will, but tends to be more of a guide to us, gently nudging us in a particular direction. We must be very prayerful in that many times we will feel seemingly led but actually God is allowing us to go our own way in order that we might see that we don't really want to go that way. It's the long route, but we definitely learn our lesson. Sometimes it's a hard lesson, sometimes not so hard. That is why it is important to be led and directed by God's guidance and not by many of the aforementioned misleading elements.
Scriptural examples of this can be found concerning Israel and their desire for a king (1 Samuel 12). It was not God's will, nevertheless, He gave them their desire and it brought them much hurt. Also in the case of Balaam, when he prayed several times (after knowing God's answer) so as to persuade God to do things his way and, again, much pain and sorrow was the result and all of Israel was misled because of Balaam's rebellion (Numbers 22). So in matters when God's will is involved concerning His plan for us and our lives on the very important levels of priority, we should be prayerful and ask for God's leading as Jesus did in the Garden of Gethsemane when he prayed, "Father, if thou be willing, remove this cup from me: nevertheless not my will, but thine, be done," Luke 22:42.
What this is all about is being in God's will. We must understand, however, that being in God's will is more of a concept of empowerment, rather than dictatorship. Philippians 2:13, "For it is God which worketh in you both to will and to do of His good pleasure." That is, God, through His will, gives you the willpower in His resurrection to fulfill His plan.
The first step that one must take in order to learn the will of God and begin to hear His voice (and I cannot stress this enough) is a renewing of the born again believer's mind. Being born again is not enough to be led by the Spirit of God. Philippians 2:5, "Let this mind be in you, which was also in Christ Jesus." To prove this out, let us go to the scriptures in Romans 12:2, "And be not conformed to this world: but be ye transformed by the renewing of your mind, that ye may prove what is that good, and acceptable, and perfect, will of God."
The Apostle Paul, under the inspiration of the Holy Spirit, is very clearly indicating that in order to prove and understand the will of God (which is His guidance in our lives), our minds must be renewed.
This is a very simple process and can be achieved through daily Bible reading and study while in an attitude of prayer and worship. It can also be achieved through speaking the Word to one's self in spiritual songs, hymns, or simply monotone quotations of scripture. Ephesians 5:19, "Speaking to yourselves in psalms and hymns and spiritual songs, singing and making melody in your heart to the Lord."
God's will is God's Word. When we are filled with God's Word, we will be filled with His will. When His leading is shown to us, it will be easily confirmed within us because the Word of God is on the same "wave-length" as His leading. His leading will not violate His Word. Keep in mind that we are not referring to the dead letter of the Bible. That is to say, the religious or legalistic viewpoint of the Bible. Romans 7:6,"But now we are delivered from the law, that being dead where we were held; that we should serve in newness of spirit, and not in the oldness of the letter." We must understand that we are under grace when we are having our mind renewed by God's Word.
In the scriptures we have just examined, we find that Paul is exhorting us to prove God's will. James says that before we go to buy and sell that we should consider God's will and that if we don't, our boasting is evil. James 4:13-16, "Go to now, ye that say, Today or tomorrow we will go into such a city, and continue there a year, and buy and sell, and get gain: Whereas ye know not what shall be on the morrow. For what is your life? * It is even a vapour, that appeareth for a little time, and then vanisheth away. For that ye ought to say, If the Lord will, we shall live, and do this, or that. But now ye rejoice in your boastings: all such rejoicing is evil." The reason why our boasting is evil is because we are not trusting God's willpower or His will in general, but we are trusting our confession that we will go here or there and buy and sell. Many times we find ourselves putting trust in our own strength, including our positive affirmation of things. The Apostle John exhorts us to try the spirits. 1 John 4:1-6, "Beloved, believe not every spirit, but try the spirits whether they are of God: because many false prophets are gone out into the world. Hereby know ye the Spirit of God: Every spirit that confesseth that Jesus Christ is come in the flesh is of God: And every spirit that confesseth not that Jesus Christ is come in the flesh is not of God: and this is that spirit of antiChrist, whereof ye have heard that it should come; and even now already is it in the world. Ye are of God, little children, and have overcome them: because greater is he that is in the you than he that is in the world. They are of the world; therefore speak they of the world, and the world heareth them. We are of God: he that knoweth God heareth us; he that is not of God heareth not us. Hereby know we the spirit of truth, and the spirit of error."
We are required by God to make sure we are being led by Him and not by some of the misleading things that we have already discussed. He does not take this responsibility, but places it upon us. We are the ones that must take the time to consider His will, to not move in any direction irrationally. We must prove His will and the following are the guidelines for doing so.
A. CHECK TO MAKE SURE THAT IT LINES UP WITH HIS WRITTEN WORD. Jesus used the written Word of God to refute the devil when he tried to take Him out of the will of God. Matthew 4:1, "Then was Jesus led up of the spirit into the wilderness to be tempted of the devil." We must remember the scriptures are inspired of the Holy Spirit. 2 Timothy 3:16, "All scripture is given by inspiration of God, and is profitable for doctrine, for reproof, for correction, for instruction in righteousness," and 2 Peter 1:21, "For the prophecy came not in old time by the will of man: but holy men of God spake as they were moved by the Holy Ghost." If Jesus used the written Word to combat the lies of the enemy, how much more should we? This is the first criteria.
B. OBSERVE TO SEE IF WHAT IT IS YOU THINK IS GOD'S WILL IS CAUSING CONFUSION IN YOUR ENVIRONMENT. God is not the author of confusion 1 Corinthians 14:33, "For God is not the author of confusion, but of peace, as in all churches of the saints," and James 3:15, "This wisdom descendeth not from above, but is earthly, sensual, devilish," and the scripture tells us to let everything be done decently and in order. 1 Corinthians14:40, "Let all things be done decently and in order."
C. ARE THE CIRCUMSTANCES LINING UP IN YOUR ENVIRON-MENT? ARE THE PIECES MOVING INTO PLACE? Romans 8:28, "And we know that all things work together for good to them that love God, to them who are the called according to His purpose." This will not necessarily be an absolute in the initial experience, but should be observable to some degree.
D. HAVE YOU RECEIVED CON-FIRMATION THROUGH THE WITNESS OF SOMEONE ELSE? When John the Baptist baptized Jesus Christ, God was willing to bear witness that He was His Son by speaking directly out of Heaven and out of the mouth of two or three witnesses shall a thing be established. 2 Corinthians 13:1, "This is the third time I am coming to you. In the mouth of two or three witnesses shall every word be established," and Proverbs 11:14 says, "In the multitude of counsellors there is safety."
E. DO YOU HAVE PEACE INSIDE YOUR HEART? This the most important element of all. Deep within the cavern of your heart is there a tranquility and a witness of God's spirit? If there is a deep groaning within, stand still or draw back and wait on God. For Paul said, "Let the peace of God rule in your hearts," Colossians 3:15. The Greek word for rule here is brabeuo. It literally means to allow the peace of the Holy Spirit to be an umpire or referee in your heart. Sometimes this is the only thing that will not line up. If all of the aforementioned criteria do line up and you do not have peace in your heart, you should not move. You should wait on God. Pray and seek Him more concerning His will. Paul prayed that we might be filled with the knowledge of His will. Colossians 1:9, "For this cause we also, since the day we heard it, do not cease to pray for you, and to desire that ye might be filled with the knowledge of his will in all wisdom and spiritual understanding." Lay hold to that prayer for your own life.
I would like to point out here that something considered to be the will of God does not necessarily mean that it will defy natural logic, human emotions, or natural pleasures, etc. Sometimes the thing that God will lead us into will align itself with some of the aforementioned realms. So, keep in mind that we are not to be led from the outside. That is to say, using what might be called the usual characteristics of the leading of God as our basis for God's leading. If we do this, we will undoubtedly move into dead works and lose sight of spiritual guidance.
Spiritual guidance can only come when one is seated in Christ in heavenly places, resting in the work of the Lord Jesus Christ, namely His death, burial, descension, resurrection, and ascension. Ephesians 2:6, "And hath raised us up together, and made us sit together in heavenly places in Christ Jesus."
For instance, to be in God's will doesn't always necessarily mean that one must deny themselves of things. Self denial is the denial of self, not the denial of things. God desires to give us good things. Sometimes God will lead you into purchasing something you may enjoy or to have an enjoyable time, etc. In other words, you do not want to be moved by condemnation. The way this can happen is when one begins to use the usual characteristics of the leading of God as a rigid criteria for His leading, much the same as a doctor cannot use symptoms as an absolute basis for diagnosis.
Many times the leading of God will indeed cause us to deny ourselves certain things and certain ways, but it is usually temporary and we receive a great benefit as a result of this momentary denial. Let's move on into the ways in which God may lead us.
There are many ways in which God can and will direct His children if we do not limit Him. The scriptural ways in which God will lead us are:
A. HIS WRITTEN WORD - God's written Word is rich with helpful insights to enhance our ability to see. The book of Proverbs is full of wise observations which enlightens the mind. The book of Psalms, with its deep prophetic inspirational prayer, praise, and comfort, along with the rest of the Word of God, will clear the mind and give one an ability to see the will of God.
This can result without consciously realizing it. Jesus Christ is the Word of God made flesh. John 1:14, "And the Word was made flesh, and dwelt among us, (and we beheld his glory, the glory as of the only begotten of the Father,) full of grace and truth." Therefore, to be in Christ means to be in the Word.
If we learn what it means to be in Christ and continue to abide in Him, we will see and experience the teaching, comfort, and illumination of the Holy Spirit.
B. THE HOLY SPIRIT - Jesus said that He would send us the Comforter (Gr. Parakletos) to teach, help, guide, and lead us. John 14:26, "But the Comforter, which is the Holy Ghost, whom the Father will send in my name, he shall teach you all things, and bring all things to your remembrance, whatsoever I have said unto you." As a result of abiding in Christ Jesus, the Lord, one will begin to experience direct leadership from the Holy Spirit. The Holy Spirit will take the knowledge of the scriptures in you, bring it to light, and cause it to come alive to your inward man. He will also speak directly to us through the human spirit from deep within our being in the form of a still small voice. 1 Kings 19:11-12, "And He said, Go forth, and stand upon the mount before the Lord. And behold, the Lord passed by, and a great and strong wind rent the mountains, and brake in pieces the rocks before the Lord; but the Lord was not in the wind: and after the wind an earthquake; but the Lord was not in the earthquake: and after the earthquake a fire; but the Lord was not in the fire; and after the fire a still small voice." It is from the Holy Spirit that we will receive what one would call the inward witness. Romans 8:16, "The Spirit itself beareth witness with our spirit, that we are the children of God," and an unction (an anointing received from the Holy Ghost) from the Father. 1 John 2:20, "But ye have an unction from the Holy One, and ye know all things." This is the most important and predominant way in which believers will be led. There will be many situations in which we have virtually nothing to go on and we must make a choice. The inward peace of God or witness as we might call it, will confirm in a moment to you that you are in His will. This comes through constant communion with the Holy Spirit through the work of Christ. It is learned by reason of use. (Hebrews 5:14) Our senses become exercised as we begin to walk by this inward witness. Without the inward witness or Holy Spirit's confirmation you cannot be what would be termed a spirit led believer.
Although you can still be led by God, you will be highly limited unless you are willing to exercise your senses in this area. This can be done through small tests with the cooperation of the Holy Spirit * if you talk to Him and ask Him to lead and guide you through smaller issues - such as the purchase of small items and/or other similar decisions. This will help you to acquire a sharpness in the spirit realm. Remember, it can only be done through constant communication with the Holy Spirit through resting and trusting in the work of Jesus Christ.
C. SPIRITUAL GIFTS OPERATING - Through yourself or others within the body of Christ, spiritual gifts operate. Keep in mind that this area of spiritual guidance must be scrutinized as well (1 Corinthians 14:29). There are spiritual gifts used to obtain insight into the will of God, they are the gift of tongues, interpretation of tongues, gift of prophecy, word of wisdom, word of knowledge and discerning of spirits (1 Corinthians 12:4-11). These gifts are given by the Holy Spirit and work in direct union with the inward witness. Without the inward witness, these gifts cannot be properly exercised. In other words, the exercise of spiritual insights and/or gifts must be governed by our inner man. The word coming through that other individual must bear witness with our inner man. It is important to stay open in this area as many times a word of insight will come through someone you may not expect. They may not even know that they are giving you a word, but you will know because you will sense it with the inward witness. An example of the will of God being made known through the gifts of the spirit can be found in the book of Acts when the Spirit of God called Paul and Barnabus to work for Him. Acts 13:2, "As they ministered to the Lord, and fasted, the Holy Ghost, said, Separate me Barnabus and Saul for the work whereunto I have called them."
D. ANGELIC MESSENGERS - Many times angels are used to bring messages directly from God. They are sent to dispatch messages from Heaven (Daniel 10:7-14 and Acts 10:3-6). They also lead men into visions. Revelation 1:1, "The Revelation of Jesus Christ, which God gave unto him, to shew unto his servants things which must shortly come to pass; and he sent and signified it by his angel unto his servant John." They bring messages in the form of audible utterances (Ezekiel l2:9). The utterances or messages that angels deliver are given to the human spirits and heard within the human spirit and sometimes in the conscious mind which lies in the soul.
Jesus had angels ascending and descending upon Him and ministering to Him at various times. John 1:51, "And he saith unto him, Verily, verily, I say unto you, Hereafter ye shall see heaven open, and the angels of God ascending and descending upon the Son of man." and Luke 22:43, "And there appeared an angel unto him from heaven, strengthening him."
Peter had an angel lead him out of a jail cell after it incapacitated the jailer and guards and unlocked the cell door. Acts 12:7-11, "And, behold, the angel of the Lord came upon him, and a light shined in the prison: and he smote Peter on the side, and raised him up, saying, Arise up quickly. And his chains fell off from his hands. And the angel said unto him, Gird thyself, and bind on thy sandals. And so he did. And he saith unto him, Cast thy garment about thee, and follow me. And he went out, and followed him; and wist not that it was true which was done by the angel; but thought he saw a vision. When they were past the first and the second ward, they came unto the iron gate that leadeth unto the city; which opened to them of his own accord: and they went out, and passed on through one street; and forthwith the angel departed from him. And when Peter was come to himself, he said, Now I know of a surety, that the Lord hath sent his angel, and hath delivered me out of the hand of Herod, and from all the expectation of the people of the Jews."
Angels are ministering spirits. They minister to the heirs of salvation, that is, the sons and daughters of God who have accepted the salvation plan. If you have accepted the salvation plan of God through the shed blood of Christ, you are eligible to receive the help of ministering spirits. Psalms 91:11-12, "For he shall give his angels charge over thee, to keep thee in all thy ways. They shall bear thee up in their hands, lest thou dash thy foot against a stone," and Hebrews 1:14, "Are they not all ministering spirits, sent forth to minister for them who shall be heirs of salvation?" Angels are very powerful beings and will fight on our behalf to execute the will of God as we pray and intercede. Daniel 10:5-20, "Then I lifted up mine eyes, and looked, and behold a certain man clothed in linen, whose loins were girded with fine gold of Uphaz: His body also was like the beryl, and his face as the appearance of lightning, and his eyes as lamps of fire, and his arms and his feet like in colour to polished brass, and the voice of his words like the voice of a multitude. And I Daniel alone saw the vision: . . ." Albeit it is not necessary for them to do this concerning you directly, provided you are abiding in the provision of Christ's work. But when confronting others who are oppressed, angels will accompany you if necessary. When we are ministering the Word of God to someone, angels are with us in the heavenly places in Christ, ministering with us.
The angel of the Lord encampeth about them that fear the Lord, that is to say, trust Him. Psalms 34:7, "The Angel of the Lord encampeth about them that fear Him, and delivereth them." Paul said some have entertained angels unawares. Hebrews 13:2, "Be not forgetful to entertain strangers: for thereby some have entertained angels unawares." Be open to this dimension of the leading of God. If you are not, you will hamper the leading of God in this dimension.
E. VISIONS AND DREAMS - Through visions and dreams we can gain access into the explicit mind of Christ to a very defining degree. There are several types of visions and dreams.
There is the open vision in which one will see an open panoramic view of the plan of God in a particular situation. This is not a mental impression, but a clear, pictorial view that seems to be seen by one's whole conscious being. An example of this type of vision can be found in Ezekiel 1:4, "And I looked, and, behold, a whirlwind came out of the north, a great cloud, and a fire infolding itself, and a brightness was about it, and out of the midst thereof as the colour of amber, out of the midst of the fire." and Acts 16:9 "And a vision appeared to Paul in the night; There stood a man of Macedonia, and prayed him, saying, Come over into Macedonia, and help us. And after he had seen the vision, immediately we endeavoured to go into Macedonia, assuredly gathering that the Lord had called us for to preach the gospel unto them."
There is the vision one will receive when falling into a type of trance state at a point between sleeping and being awake. This experience usually occurs at a time of meditation and prayer before God concerning His will or just simply a time of worship. Acts 10:10-11, "And he became very hungry, and would have eaten: but while they made ready, he fell into a trance, And saw heaven opened, and a certain vessel descending unto him."
Then there is the dreams by night that we will receive when we are in deep sleep concerning the will of God. Daniel 2:1, "And in the second year of the reign of Nebuch-adnezzar, Nebuchadnezzar dreamed dreams, wherewith his spirit was troubled, and his sleep brake from him," and Matthew 1:20, "But while he thought on these things, behold, the angel of the Lord appeared unto him in a dream, saying, Joseph, thou son of David, fear not to take unto thee Mary thy wife: for that which is conceived in her is of the Holy Ghost."
These will almost always be the result of quality devotional time prior to sleeping; a time when one devotes themselves to prayer and giving thought to God's Word and pondering His plans for their life.
Finally, there is the out-of-the-body experience in which the Holy Spirit will escort one's spirit out of their earthen vessel into a spiritual plane or dimension in which the plans of God are revealed. Ezekiel 37:1, "The hand of the Lord was upon me, and carried me out in the spirit of the Lord, and set me down in the midst of the valley which was full of bones," and 2 Corinthians 12:2-3, "I knew a man in Christ above fourteen years ago, (whether in the body, I cannot tell; or whether out of the body, I cannot tell: God knoweth;) such an one caught up to the third heaven. And I knew such a man, (whether in the body, or out of the body, I cannot tell: God knoweth."
This experience happens the least frequent and one will sometimes be accompanied by an angelic guide or narrator who will stand by to answer questions or explain things that are seen (Book of Revelation).
Jesus said an adulterous and perverse generation seeketh a sign. God would not have us seek signs merely to have spiritual experiences. It should be pointed out here that we are not to seek dreams and visions, but rather seek the will of God. As a result, at sundry times, we may find ourselves experiencing dreams and visions inspired by the Holy Spirit. These experiences, however, are used only to convey high priority information to us; things that would be considered on a highly important level. Therefore, these experiences are not as frequent as others.
It also should be noted that all dreams and visions from God will be accompanied by an inward peace and clarity during the experience. Scriptures teach that Satan can transform himself into an angel of light but he cannot give us peace in our heart. 2 Corinthians 11:13-15, "For such are false apostles, deceitful workers, transforming themselves into the apostles of Christ. And no marvel; for Satan himself is transformed into an angel of light. Therefore it is no great thing if his ministers also be transformed as the ministers of righteousness; whose end shall be according to their works."
If you should begin to experience numerous dreams and visions that induce stress, fear and/or guilt, you should seek the counsel of an elder or elders and have hands laid on you confessing deliverance over you in the name of the Lord Jesus Christ.
F. CONFIRMING SIGNS AND WONDERS Jesus Christ said, "These signs shall follow them that believe; In my name shall they cast out devils; they shall speak with new tongues; They shall take up serpents; and if they drink any deadly thing, it shall not hurt them; they shall lay hands on the sick, and they shall recover," Mark 16:17-18. We see in this scripture some of the confirming signs and wonders that will occur to show the born again believer that they are in the will of God. There are other signs and wonders that will occur confirming experiences, that will cause wonder to the natural logical mind. There may be a phone call at the exact right time with the answer you have been waiting for. The person may have the answer yet have no knowledge of what is going on. The arrival of materials that at another time were not available, seem to become available at the exact right time. There are many various forms of signs and wonders in the circumstances around us that will occur to confirm that we are in God's perfect will. Money will also seem to come at the right time. A job may be made available at a time when one happens to have lost a previous job. The intensity of these experiences will directly coincide with the focus of one's prayer life.
If one is praying constantly, one will constantly have signs and wonders follow them in various forms (provided they are praying correctly) from speaking in tongues and healing the sick, to walking in a store at the exact time when the clothes you wanted were on sale.
1 John 2:27, "But the anointing which ye have received of him abideth in you, and ye need not that any man teach you: but as the same anointing teacheth you of all things, and is truth, and is no lie, and even as it hath taught you, ye shall abide in him." There is no amount of written or lectured knowledge that will be able to teach you to walk by the Spirit of God and the various forms in which He leads and guides us. You will have to learn through experience the knowledge of this lesson. Coupled together with your experience, it will move you into a most exciting and bountiful life. By reason of use, you will sharpen your senses. Hebrews 5:14, "But strong meat belongeth to them that are of full age, even those who by reason of use have their senses exercised to discern both good and evil." You will actually learn to out-maneuver the tactics of the enemy of your soul and the tactics of people contrary to God's plan in your life. You will learn the way to win even though the opposition seems too great. You will see and know something others do not see or know, as in the case of Elisha when he saw the chariots surrounding the city and asked God to open the eyes of his young servant, Gehazi. 2 Kings 6:13-17, "And he said, Go and spy where he is, that I may send and fetch him. And it was told him, saying, Behold, he is in Dothan. Therefore sent he thither horses, and chariots, and a great host: and they came by night, and compassed the city about. And when the servant of the man of God was risen early, and gone forth, behold, an host compassed the city both with horses and chariots. And his servant said unto him, Alas, my master! how shall we do? And he answered, Fear not: for they that be with us are more than they that be with them. And Elisha prayed, and said, Lord, I pray thee, open his eyes, that he may see. And the Lord opened the eyes of the young man; and he saw: and, behold, the mountain was full of horses and chariots of fire round about Elisha."
What a tremendous opportunity for you. The opportunity to apply the knowledge you have learned in this lesson. Just think of the possibilities of becoming a spirit led man or woman, not being moved by what you see, feel or hear with the natural senses. Seeing life in another dimension, in a dimension of higher order. Come, the Holy Spirit beckons you to step out on the water of a new and exciting life of abundance. May you be filled with the knowledge of His will. Colossians 1:9, "For this cause we also, since the day we heard it, do not cease to pray for you, and to desire that ye might be filled with the knowledge of his will in all wisdom and spiritual understanding."
Make this statement of faith, "I receive the infilling of the knowledge of God's will in my life. I now begin to say with my heart and mind, I know the will of God, by His grace."
Ephesians 1:9, "Having made known unto us the mystery of his will, according to his good pleasure which he hath purposed in himself."
As born again believers, we've been given a new way in which to walk with God, and that is, in the Spirit. Galatians 5:16, "This I say then, Walk in the Spirit, and ye shall not fulfil the lust of the flesh."
As a result of the born again experience, our spirit has been regenerated. Titus 3:5, "Not by works of righteousness which we have done, but according to His mercy He saved us, by the washing of regeneration, and renewing of the Holy Ghost." We can now be led by God directly, as the scripture says, "For as many as are led by the Spirit of God, they are the sons of God," Romans 8:14.
The old concept of being led has always been that of whatever will be will be, or the idea that we are predestined without any conscious input of our own. This is scripturally erroneous in the new covenant and is derived from an old covenant legalistic mentality and causes us to accuse God of things He has never done. Other misconceptions concerning this kind of thinking are, "God allowed it to teach me something," or "His ways are past finding out," and "God, if you do not want me to do this then stop me." All of the aforementioned erroneous statements are a result of the mouse in the maze concept of thinking.
Indeed, God has had to use methods that were not in His perfect plan or will in order to bring His plan about, but this has been because of our lack of understanding. For instance, an angel was put in Balaam's path to stop him and the donkey saved his life (Numbers 22:21-35), but was this God's perfect plan of guidance? No! His ultimate goal is to nurture sons and daughters who can hear His voice and learn how to be led by His Spirit. John 10:27, "My sheep hear my voice, and I know them, and they follow me." Many times when people end up in the hospital with a sickness or are in an auto accident, you may hear them eventually say, "God had a reason," and "Just think of all the people I witnessed to while I was in the hospital that wouldn't have gotten witnessed to."
Well, wouldn't it be more advantageous to simply be in tune with and obedient to the Holy Spirit to the degree that He could lead us to the hospitals to preach or share Christ! How can we associate auto accidents, deadly sickness and other tragedies with God and His plan? He is the Good Shepherd (John 10:10-11). The wicked one came to steal, kill and destroy, not Jesus. Jesus even used the illustration of an earthly father that wouldn't give us something evil in place of something good, how much more so our Heavenly Father. Luke 11:13, "If ye then, being evil, know how to give good gifts unto your children: how much more shall your heavenly Father give the Holy Spirit to them that ask him?"
We must stop this kind of thinking, for this is precisely the kind of thinking (a type of anti-faith) that the enemy uses to throw us off from God's plan of blessing.

Yes, God will ultimately work these things together for our good when we pray. Romans 8: 28, "And we know that all things work together for good to them that love God, to them who are the called according to his purpose."
We will also learn patience as a result of our tribulation, so all is not lost even when we make a mistake. James 1:3, "Knowing this, that the trying of your faith worketh patience." Thank God!
But the Old Testament lay out the fleece mentality is over. We can hear from God now and obey Him. Granted many times it will be a leap of faith, because it contradicts the natural. But if we will practice walking in the Spirit through the work of Christ, we will experience the abundant life that God has for us.
We are now the body of Christ on earth. He has given us His authority. Luke 10:19, "Behold, I give unto you power to tread on serpents and scorpions, and over all the power of the enemy: and nothing shall by any means hurt you." If we can receive the fact that we have been resurrected with Him, Romans 6:4-5, "Therefore we are buried with him by baptism into death; that like as Christ was raised up from the dead by the glory of the Father, even so we also should walk in newness of life. For if we have been planted together in the likeness of his death, we shall be also in the likeness of his resurrection," and act on it, then we can learn to be led just as Jesus was. He said to the person that believes on Him, "Greater works than these shall he do," John 14:12. Keeping this in mind, let us simply look at His life.
Did anyone ever outwit Him to His demise? Did anyone ever take Him and physically harm Him until He decided the time? Stop and think about it for a moment. Do you think He was ever sick physically? Of course not. Nor did He even have so much as a sniffle. The scriptures show us that He clearly outmaneuvered every set of circumstances that would oppose Him. Even when the devil tempted Him in the wilderness, He out maneuvered him and the only time He suffered was when He willingly laid down His life to pay for the sins of the world because there was no other way.
Face it, a lot of the suffering we experience, we bring on ourselves through a lack of knowledge, wisdom and patience. (Hosea 4:6 and James 1:2-9.)
This is why, in the context of what we are saying now, James said not to err. James 1:16-17, "Do not err, my beloved brethren. Every good gift and every perfect gift is from above, and cometh down from the Father of lights, with whom is no variableness, neither shadow of turning." That every good gift and perfect gift is from God. That God doesn't change. He's good all of the time.
Mankind has a gross misconception of God and the way God operates in people's lives and this has been carried over genetically into the mind of the born again believer and this kind of thinking must be renewed by the Word of God and good solid teaching. Romans 12:2, "And be not conformed to this world: but be ye transformed by the renewing of your mind, that ye may prove what is that good, and acceptable, and perfect will of God."
Yes, there will be persecutions, but they will be for righteousness sake and the preaching of the gospel; ultimately a result of the jealousy that the world has for the blessing of God in one's life. Yes, we will experience tribulation, Jesus said so, but most of these tribulations are a result of the growing process of a believer as he passes from death unto life and glory to glory. 2 Corinthians 3:18, "But we all, with open face beholding as in a glass the glory of the Lord, are changed into the same image from glory to glory, even as by the Spirit of the Lord."
It is something we learn. We learn to think differently. We learn to walk differently. We learn to talk differently and as we learn, we grow in our ability and skill. Hebrews 5:13-14, "For every one that useth milk is unskilful in the word of righteousness: for he is a babe. But strong meat belongeth to them that are of full age, even those who by reason of use have their senses exercised to discern both good and evil."
Even Paul had not counted himself to have attained that kind of absolute skill, but he continued to press toward the mark and knew that there was a higher dimension of living that we can continually grow into. Philippians 3:12-14, "Not as though I had already attained, either were already perfect: but I follow after, if that I may apprehend that for which also I am apprehended of Christ Jesus. Brethren, I count not myself to have apprehended: but this one thing I do, forgetting those things which are behind, and reaching forth unto those things which are before, I press toward the mark for the prize of the high calling of God in Christ Jesus." It is God's perfect will.

You must decide now not to gamble with your life by hoping for the best. It is time the children of God begin to learn how to walk in the Spirit and be led and guided by the Holy Spirit!